Published by Harper Collins, London in February 2009.
Previously published by Gill & Macmillan, Dublin in February 2008.
Ireland's No.1 Non-Fiction Bestseller for 9 weeks in March - May 2008.
Buy online at Amazon UK or at Gill & Macmillan Ireland.
UK Edition - only 1 penny!
THE IDEA :
"For years flying has been the preserve of rich fuckers. Now everyone can afford to fly."
Mick O'Leery, Chief Executive Officer, Ruinair Holdings plc.
THE DUST JACKET :
Stung by a ten hour delay and a Ä300 fare to Spain on his native Ďlow faresí airline, Dubliner Paul Kilduff plots revenge - to fly to every country in Europe for the same total outlay, suffering every low fares airline indignity. Armed with no more than 10kg of carry-on baggage, he endures 6 am departures, Six Nations boarding scrums, lengthy bus excursions, terminal anxiety and cabin crew who deliver infamous customer service. Kilduff travels to places he never knew he wanted to go that are probably not quite where he thinks they are and he is not sure what he will do once he gets there, including beautiful Beauvais, cosmopolitan Charleroi, electric Eindhoven, heavenly Haugesund and tropical Tampere. And all this on a cheap Irish airline led by a self-proclaimed Ďobnoxious little bollocksĎ, which flies from A to somewhere remotely near B, weighs baggage like gold, charges its passengers to check-in or for wheelchairs, sells them hangover cures and scratch cards, lands its aircraft at the wrong airport, takes court cases against its own pilots and doesnít even care if Kilduff shows up. On his miserly pan-European exploration he reveals the secrets of the new travel phenomenon favoured by one hundred million plus passengers annually. And his advice to fellow travellers in the ultimate airport holiday book? - "Donít get mad, get even - Get a one cent airline ticket."
PROLOGUE EXTRACT : (Copyright 2008)
PROLOGUE - DUBLIN AIRPORT
FLIGHT FR 206 - TUESDAY @ 8.30 AM - DUB - STN
Is that Mick? I stare ahead at the check-in queue. Others spot him too and peer over. It looks like Mick. He wears faded denim jeans and a creased check shirt, with buttons undone and sleeves rolled up. He is active and agitated. So it must be Mick. Iíve never stood so close to a man worth six hundred million euro who doesnít possess a tie, nor apparently an iron. Mick is the closest thing we have to a real cult in Ireland.
I wonder why he bothers to stand in a queue, five or six people ahead of me, taking another flight to his Mecca. He could have jumped the line; instead he joins the Great Unwashed. Iím vaguely impressed. I wonder if he really purchased a ticket like I did, how long ago he booked it and if itís as cheap as my flight. Thereís no sign of Mick at the departure gate so he must be in the VIP area. But suddenly he stands up like a Messiah in our midst and assists his staff to take our boarding cards. I purposefully join his personal queue and he rips my boarding card in two with a practised ease. Mick doesnít look at me. We donít bond.
I have an aisle seat in the centre of the B-737. Mick sits a few rows ahead, reads an Irish Times at speed, then grazes some business papers. He chats to a colleague who sits opposite. The crew are on their very best behaviour today. So is their boss. He hasnít sworn at anyone yet, us passengers included. I wonder where it all went wrong. We both attended private schools in Ireland favoured by the cream of the country; rich and thick. We were at university in Dublin at the same time. We joined large accounting firms in Dublin. He almost qualified as an accountant, but I did. He left the profession to buy a few corner shops in Dublin, but I took a proper day job. One of us is now a multi-millionaire and one of us writes books.
How does he do it? There isnít a spare seat on the flight. I paid a teeny ten yo-yoís return fare for the trip. Itís cheaper than parking a car at the airport, cheaper than the books on sale in the terminal, cheaper than the sandwich and coffee available on board, cheaper than the train to civilisation at the other end. The taxes, fees and charges are still a mystery to me. I paid forty penal yo-yoís. Mick had the gall to charge me a Ä6 credit card handling fee. But I did it all online. I mean, who ever handled my credit card but myself?
Today we fly to a place to the north-east of London called Stansted which is Connexted by rail to Liverpool Street. This modern accessible airport is an essential component of this airlines strategy. Experience shows that passengers will fly from nowhere to somewhere, but will not fly from nowhere to nowhere. I stalk Mick along the corridors on our communal route march towards Arrivals. I spy a row of five middle-aged men in grey suits wearing airport shiny BAA ID badges. They are on bended knee as they shake his hand. Mick delivers sixty percent of all passengers at their airport. Itís like a visit by the Pope.
The new world order is in the concourse. Ruinair have half the floor space. EzJet have the rest. Herr Berlin is the latest upstart. Buzz were badly stung. DebonAir went out of fashion. Go are long gone. The walls of the terminal are adorned with their smiley bulbous aircraft, their route map cobweb and must-see website address. The latter is the most searched travel website in Europe and the seventh most searched web brand according to Google. Ruinair is the worlds largest international scheduled airline by passenger numbers, ahead of Lufthansa, Air France and British Airways, and is the third most valuable airline in the world, surpassed only by Southwest Airlines and Singapore Airlines. Even with its millions of passengers Ruinair only enjoys a small market share of the 420 million people who fly annually within Europe.
We are the Ruinair generation who take flights abroad in the same way our parents took bus trips into town. Ruinair takes us from A to somewhere remotely near B; from Aarhus to Zaragoza (Pyrenees). They fly to every hamlet in Europe; Altenburg, Billund, Brno, Lamezia, Pau, Vaxjo (which sounds like a toilet cleaner), Weeze, Zadar; places that I doubt even exist. RuinWhere? They fly to the vague destination of Karlsruhe Baden-Baden (Stuttgart), so Bad they named it twice. They fly to Balaton in Hungary, which is not a city, but a lake. 50 million passengers travel on 550 routes between 26 countries on our own Eireflot.
This is no longer a little Irish airline. Itís an epidemic of biblical proportions. I am reminded of their Spanish routes. I will book another flight, this time to Malaga. The fare will be as low, and the experience as painless, as today. Surely Mick and his very cheap airline couldnít ruin my precious summer holiday.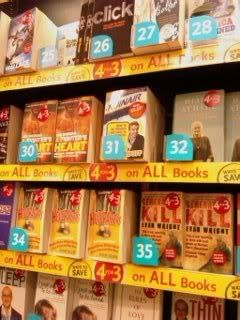 Ruinair charts in W H Smith London
WHAT THE CRITICS SAY :
"This is a travelogue in the best sense of the word - it captures the tone and the landscape of the changed Europe where we can now fly for a tenner, so that a reader in 100 years' time could quickly visualise the importance of what has happened. Kilduff's strength is the variety of destinations he visits and his contextualisation of the Ryanair experience. Kilduff's style is eminently suitable for an airline that is constantly mocking itself and taking the urine out of the airline industry it has enlivened." - Irish Independent
"Ruinair is an entertaining travel book based around the destinations you can visit on this much-used but maligned airline. This is a razor sharp travel guide. VERY funny, sure, but be warned, if the book fails to please, there is no refund." - Sunday Tribune
"This is a thoroughly humorous, witty and evocative book. Kilduff has produced a travelogue every bit as good as McCarthy's Bar, and one that promises to be a must-read in airports and on airplanes for many years to come." - Evening Echo.
"It's chocks ways for a breathless tour of the low-fares revolution. Kilduff has done his homework and displays a keen eye for bizarre detail, settling on the quirks of our European neighbours with touching exuberance. His no-holds-barred style echoes O'Leary himself, which should be a compliment. It's not half bad. There are worse ways you could while away the wait for your next Ryanair flight." - Irish Mail on Sunday.
"Kilduff has a neat sense of irony when balancing his own and other people's discomfort, with the motivation that brings us all back to Ryanair: it's cheap. He can be a droll and perceptive writer. His dispatches from the hot-spots of Liechtenstein or San Marino are witty and engaging. A quirky study of a modern phenomenon, Ruinair is the ultimate airport book. You may even see it sold on Ryanair flights, if Michael O'Leary can find some way to make a buck from it." - Sunday Business Post
"This is a laugh-out-loud riot of a book. Not only is it packed with anecdotes and witticisms to keep you amused, but it's also a super travel book, being jam-packed with all sorts of interesting facts. Gems like this don't come along every day, so if you're bringing just one book on holidays this year, let it be Ruinair." - Clare Champion
"Kilduff brings considerable and stylish descriptive powers to the stampede boarding and bussing experience we all know so well. His strength is the variety of destinations he visits including non-Ryanair ones amongst them. This is a 2008 Homer's odyssey." - Travel Extra Magazine
"This is a David and Goliath tale and is an offside tribute to the most talked about man and airline in the history of aviation. It's a fantastically entertaining read. Don't read it anywhere but in the privacy of your own home." - Living It magazine.
"Our view of the books that have been published to date is one of total indifference." - A Ruinair Spokesman
'I hope we will have the pleasure of welcoming you on many more low cost, on-time flights and that you will continue with your wonderful writing, which helps keep us entertained and spreads the gospel of our lowest fares across Europe.' - Ruinair Customer Service Department